Security Product Series
1 - Digital Persona Security Product
Digital Persona Biometric Series
Monday, 19 April 2010 at 20:30 GMT, by SiteAdmin
ISP brought "Biometric Security" Computer Solution product sourcing from U.S., and now have a full line of Digital Persona 's product for almost any application. We are expertise and experience with biometric security in enterpise solution. we are granted to be reseller of Digital Persona and selected for full line pushing the power of Digital Persona Pro Solution. ISP recommended Computer Biometric Solution. It featured best performance and excellent pricing. Contact us for pricing ! Read more »
| Posted by SiteAdmin | Categories: General |

---
2 - GPRS - FIngerprint Attendance Terminal
ZKSoftware - featured GPRS Fingerprint Attendance Terminal
Monday, 19 April 2010 at 20:30 GMT, by SiteAdmin
ISP brought "Innovative" Fingerprint Time & Attendance and Access Control Identification Terminal product sourcing from China, and now have a featured & focusing with ZKSoftware Biometric terminal. By using ZKsoftware unique feature, "GPRS" terminal. We are expertise and experience with biometric security in enterpise solution. we are granted to be reseller of ZKSoftware product and highlighted a sophisticated unique feature to form a edge Solution. ISP recommended "iclock700" Biometric Solution. It featured best performance and excellent pricing. Contact us for pricing ! Read more »

iClock 700 FEATURES
Introducing the Fingerprint Time & Attendance and Access Control Identification Terminal. The unit is driven by ZKSoftware latest ZEM600 platform with ZKFinger 10.0 fingerprint algorithm to improve identification speed. It can manage 10000 templates within 1.5 second (I: N identification). IClock700 features ZK's high performance, high image quality optical fingerprint sensor. The patented optical sensor is resistant to scratches, impact, vibration and electrostatic Shock.

Because of the common development platform, existing customer will be able to use iClock700 and co-exist with any existing ZK readers without re-enrolling the users. The iClock700 can be used in multi factor authentication that supports fingerprint, password, Proximity and Smart card. It also has an option for Wi-Fi and GPRS connectivity.
The iClock700 has camera and 3.5" color TFT-LCD display, so it can display the individual graphical interfaces and personnel color photos. It comes standard with TCP/IP, RS-232/485, USB-host, USB-client, 8 functions keys, T9 input method, backup battery and has access control connectivity for Wigand-in, Wigand-out, Door lock connection, Alarm, Bell, Remote to Exit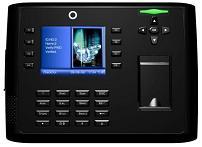 ---
3 - Facial & Fingerprint Recognition Attendance Terminal
ZKSoftware - featured Facial & Fingerprint Time & Attendance Terminal
Monday, 19 April 2010 at 20:30 GMT, by SiteAdmin
ISP brought "Innovative" Facial & Fingerprint Recognition Time & Attendance and Access Control Identification Terminal product sourcing from China, and now have a featured & focusing with ZKSoftware Biometric terminal. By using ZKsoftware unique feature, "GPRS" terminal. We are expertise and experience with biometric security in enterpise solution. we are granted to be reseller of ZKSoftware product and highlighted a sophisticated unique feature to form an edge Solution. ISP recommended "iFace302" Biometric Solution. It featured best performance and excellent pricing. Contact us for pricing ! Read more »

iFace 302FEATURES
Introducing the iFace Recognition and Fingerprint Time & Attendance and Access
Control Identification Terminal. This ergonomically designed terminal is equipped
with a high definition infrared camera which enables user identification in the dark
environment. The appearances of iFace series are designed by Germany professional design company according to the view of human engineering. The unit is driven by a 630MHz high speed ZK Multi-Bio Processor and large capacity memory. Firmware is based on the proven ZEM600 platform with the latest ZK Face 5.0 and ZK Finger 10.0 algorithms. User interface is via a modern 4.3 inch TFT touch screen. For communication, the iFace supports RS232 or RS485, TCP/IP LAN.Internet, with optional WiFi or GPRS and optional built-in 2000 mAh battery eliminates the trouble of
power-down.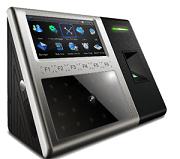 | Posted by SiteAdmin | Categories: General |
---
4 - Digital Wireless Surveillance System
---
5 - Need Consulting? find us for details
What ISP Professional can help you?
Monday, 6 Sep 2010 at 20:30 GMT, by SiteAdmin
We are expertee in engineering, no matter it is software customization, software system, power system, security system and wireless system. it is a easy job for us. The product mentioned above, it is a sophisticated system but it is convenience and efficient solution for your home or building use.
Our service includes
on site survey
evaluation and system design to suit for your situation
enable best idea and choice for you
installation & commissioning
maintenance service
Find us by
Phone: (852) 39084121
Fax: (852) 21254476
---